My name is Stan Cundall my roots are in Bebington , Wirral ,Merseyside and I often use the Mersey world link to find out what's going on back home, this link covers all aspects of life in the Merseyside area. The above photograph was taken by myself from Woodside Birkenhead a few years ago. Another useful link is the Wirral web site which is more specific but I was born and spent most of my life in Bebington on the Wirral ,so this is another important link for me.

I am a freelance computer Analyst /Programmer Check out my C.V. and as such my work takes me all over the U.K. Where I now live provides me with the perfect opportunity to persue my photography which is one of my greatest interests.

Also, I am absolutely nuts about Alfa Romeos and Formula 1 motor racing. Nigel Mansell,Ayrton Senna and Johnny Herbert being three particular favourites from the past and present.

An image of me as seen through the eyes
of Keith Clatworthy's scanner.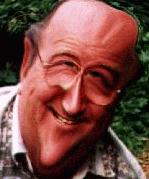 Why such a long face Stan ?
Never trust anybody to scan a picture in for you. Cheers Keith !
See what Keith's done to one or two politians - Tony Vampire Blair for instance !
The tabloids would pay a fortune for them
Plus some eye opening Lottery analysis

The Kids

What Next ?
Feel free to navigate your way around my site using the Index in the top left frame, or go to About this site to obtain more details of each link.